If you want to maximise your property's block space, you're faced with two options: to build a granny flat or undertake a home extension. However, how do you choose between a house extension or a granny flat?
Let's understand the key differences between the two options.
What is a granny flat?
A granny flat is a self-contained living space that resides on the same block as a house. Granny flats can be attached to a home or stand-alone. They have a small kitchen, bathroom and other imperatives that allow the occupant to be self-reliant.
What is a house extension?
A house extension is an expansion of your home – whether it be building an additional room or even another storey! Unlike a granny flat, it is a complementary space to the overall house and doesn't provide self-sufficiency within itself.
What are the benefits of a granny flat?
Granny flats are a versatile space that increases your property's value. Because they're an ancillary dwelling, they can provide independence to elderly parents or young adults while still providing the safety and comfort of living with their families.
Many people invest in granny flats to create an additional revenue stream. With cities becoming denser and the demand for residences continually increasing, granny flats are a great way to get an extra income. Your granny flat could net you anywhere between $220 – $350 a week!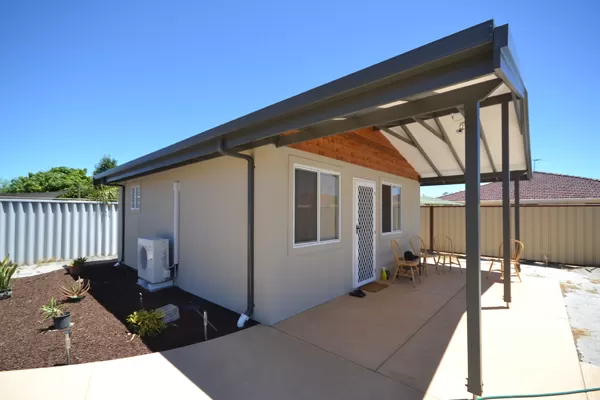 What are the benefits of a house extension?
Like granny flats, house extensions increase your property's value! Additionally, they give you increased living space, the ability to get more from your property and an opportunity to improve your lifestyle. An extension can be a way of freshening up or personalising your living space, preventing you from moving (which can cost you more and comes with an array of hassles).
Granny flat vs house extension
When choosing between an extension or a granny flat, your priorities will determine which option you should go for. One is not objectively better than the other; they accommodate different needs.
Because granny flats are ancillary, they can provide a second home – giving autonomy and independence to the resident. However, they can have greater planning, council permissions and logistical red tape to overcome (although a reputable builder such as GFWA will take care of the entire process for you). You'll also probably need more space.
Home extensions are an excellent option for maximising your property's space and getting more from your home. For example, if your family's growing and you need additional living space, an extension is an easy way to get this extra area. In this instance, a granny flat doesn't make sense as you don't need an additional bedroom or bathroom.
A granny flat or a second-storey extension?
Another choice you could make is between a granny flat and second-storey addition to your home. On paper, both options could provide similar benefits – an area that houses a bathroom, bedroom and living space, somewhere that can be self-contained and will increase your property's value. Even the price of each build can be similar but is, of course, subject to variables.
The primary consideration when choosing between a granny flat and a second-storey is whether you want to rent it out to the wider public. An ancillary granny flat provides privacy for the tenant and yourself and will fetch you more in weekly rent.
When considering an extension or a granny flat, it pays to have a clear idea of your priorities and goals. If you're unsure what would be best for you, have a chat with one of GFWA's specialists, and we can help steer you in the right direction.