Two-bedroom granny flats give residents space and flexibility. Because of their ability to accommodate a range of lifestyles, two-bedroom granny flats are a savvy investment. Their rental yield and increase in property value are greater than one-bedroom granny flats. They come in a range of designs, or you can design your own with Granny Flats WA.

How much does it cost to build a two-bedroom granny flat?
Building a two-bedroom granny flat generally costs upwards of $120 000. It is more expensive than a one-bedroom granny flat but much more cost-effective than a larger granny flat or house. The costs depend on the design, the materials used and your specific council fees. Council fees often rise based on granny flat size.
Contact our team for an obligation-free quote for how much it will cost to bring your dream to life.
Two-bedroom granny flat requirements
Two-bedroom granny flats require more space than one-bedroom granny flats. The size you can build your granny flat is determined by the size of your house's lot. When building a granny flat, the lot must be subdivided between the granny flat and the house. Suburbs are assigned density codes, with lower density codes requiring more space for subdivision. You can read about residential codes, including density requirements, here. Granny flats must get planning, building and council approval in order to be built.
What are the benefits of a two-bedroom granny flat?
Two-bedroom granny flats benefit from being more spacious than one-bedroom granny flats, while still using space economically. Due to this increase in space, a two-bedroom granny flat provides greater freedom in how you can utilise it. More rooms make them more effective guesthouses than one-bedroom granny flats. If you're renting the building out, you can target a larger demographic of renters. Larger decks and outdoor areas can also be added on as features that will increase the property's value.
Two-bedroom granny flat designs
A two-bedroom granny flat design features two separate bedrooms whilst the kitchen and living room occupy an open space, and the bathroom and laundry are separate. They can also have an outdoor area or deck. Two-bedroom granny flats work with more space, meaning their designs can range from simple to more complex. At Granny Flats WA, you can use a premade design from us, or we can help you design a custom granny flat.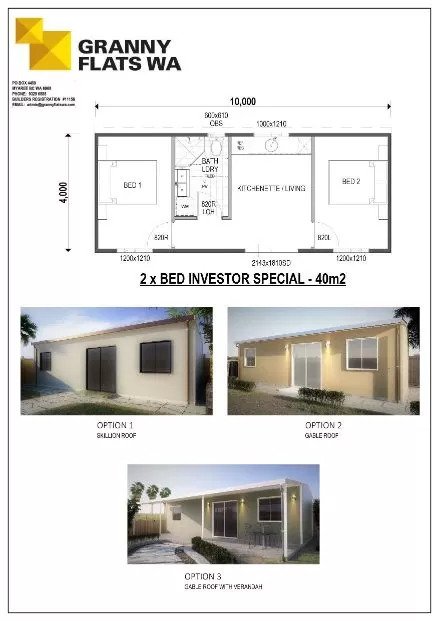 2 x BED INVESTOR SPECIAL – 40m2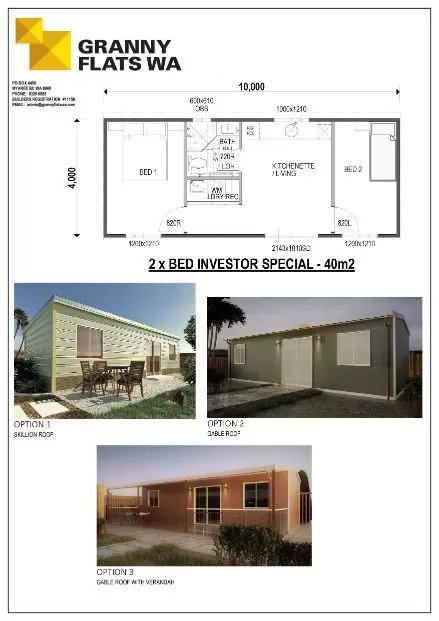 2 x BED INVESTOR SPECIAL – 40m2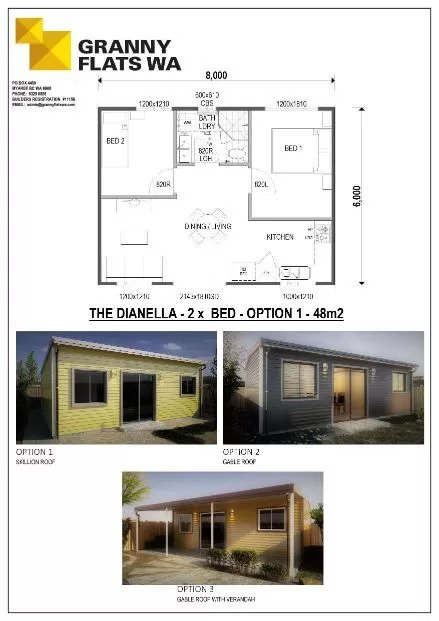 THE DIANELLA – 2 x BED – OPTION 1 – 48m2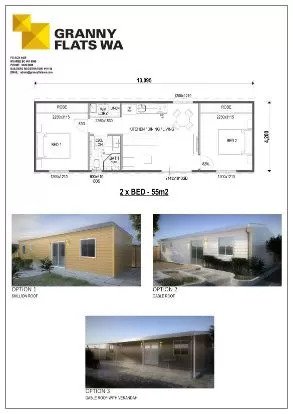 2 x BED – 55m2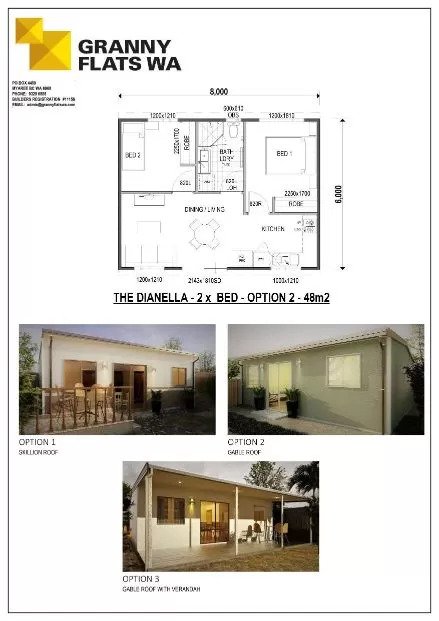 THE DIANELLA – 2 x BED – OPTION 2 – 48m2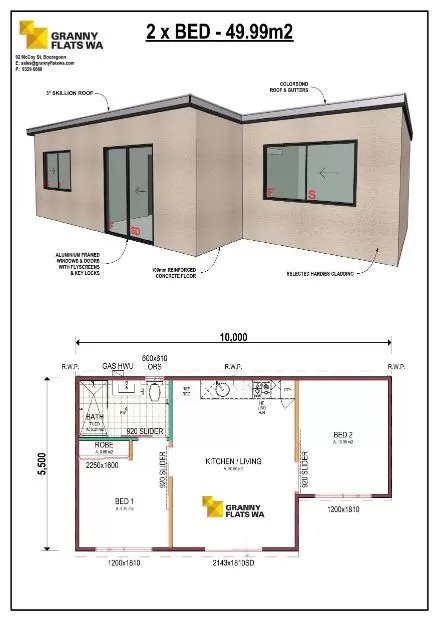 2 x BED – 49.99m2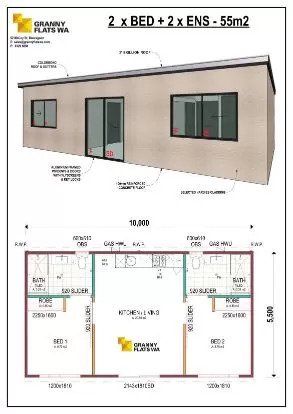 2 x BED + 2 x ENS – 55m2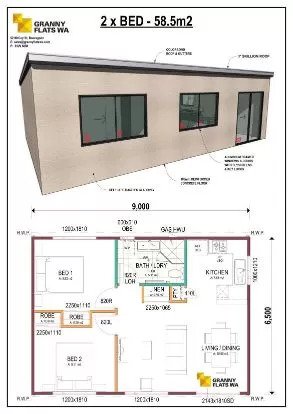 2 x BED – 58.5m2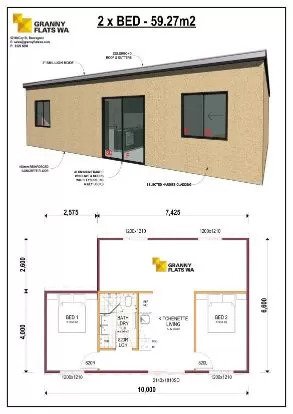 2 x BED – 59.27m2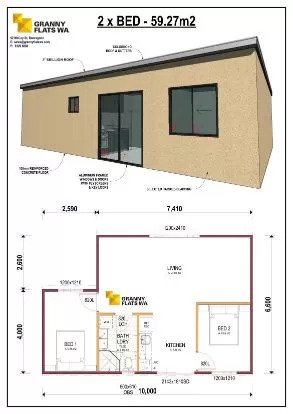 2 x BED – 59.27m2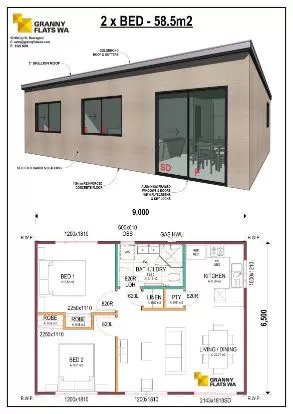 2 x BED – 58.5m2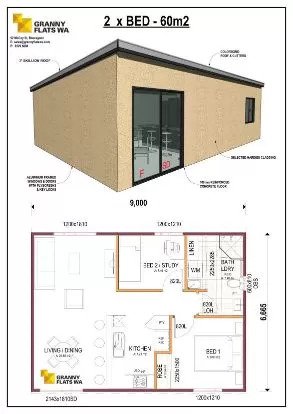 2 x BED – 60m2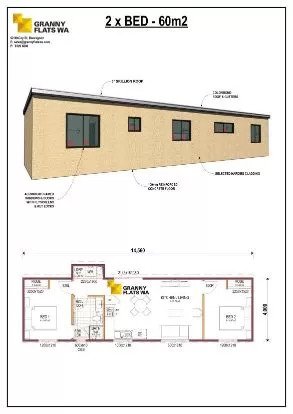 2 x BED – 60m2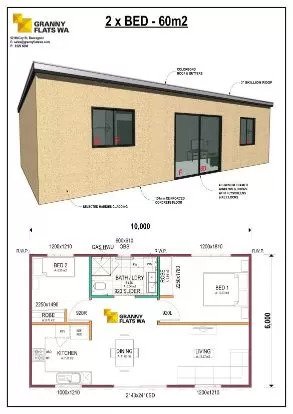 2 x BED – 60m2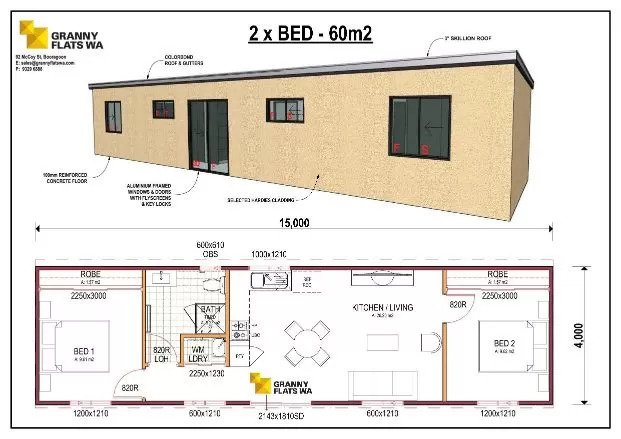 2 x BED – 60m2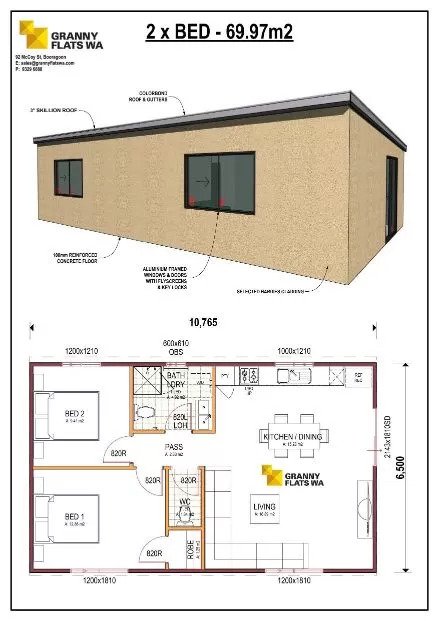 2 x BED – 69.97m2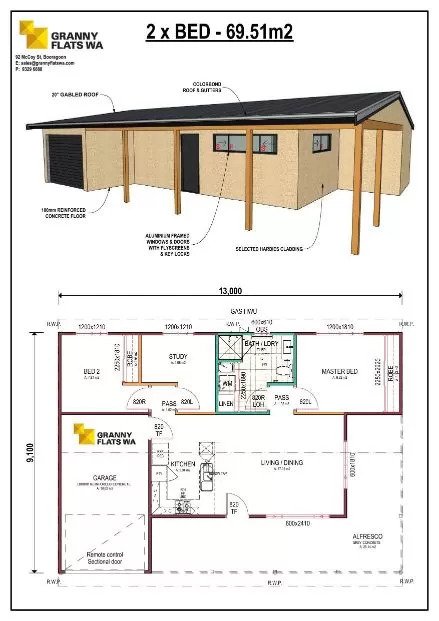 2 x BED – 69.51m2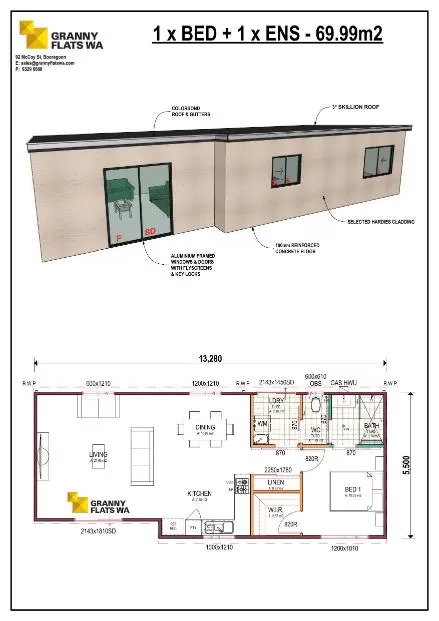 1 x BED + 1 x ENS – 69.99m2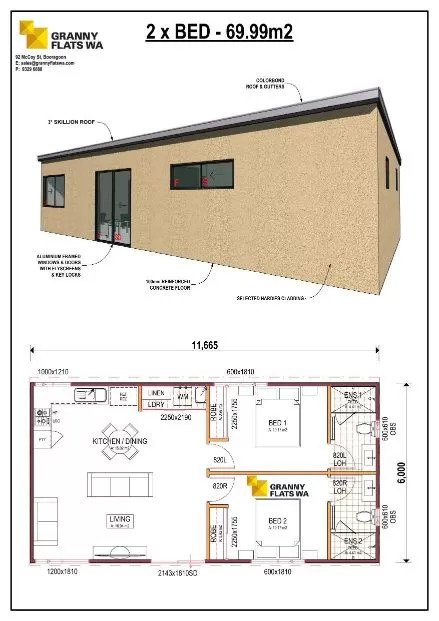 2 x BED – 69.99m2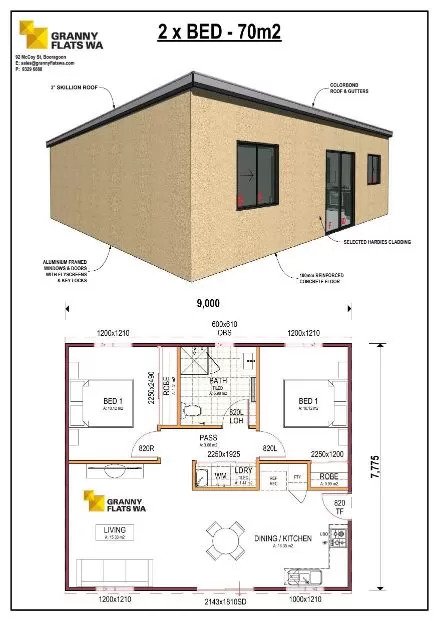 2 x BED – 70m2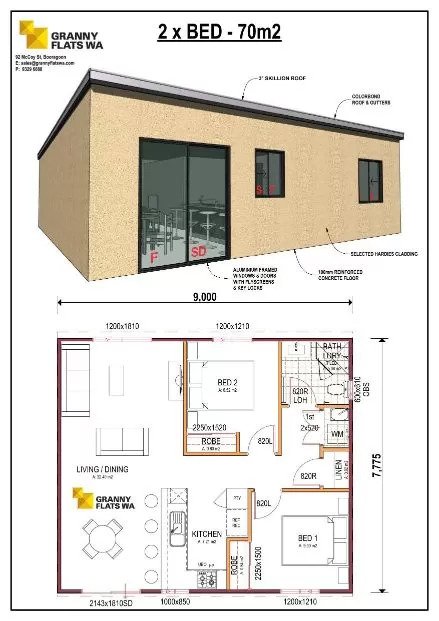 2 x BED – 70m2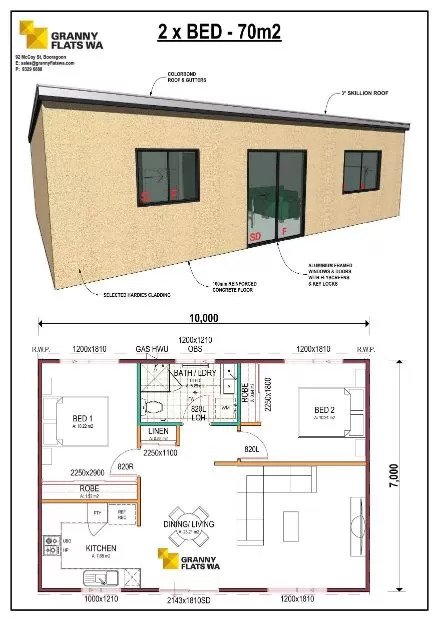 2 x BED – 70m2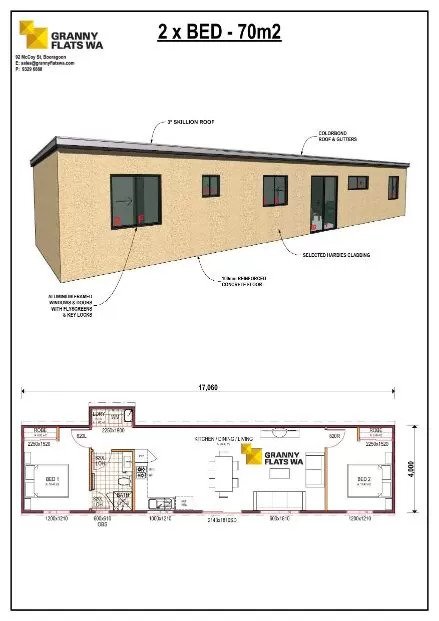 2 x BED – 70m2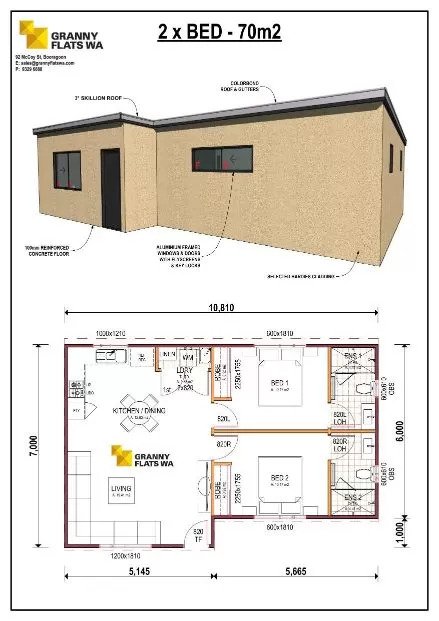 2 x BED – 70m2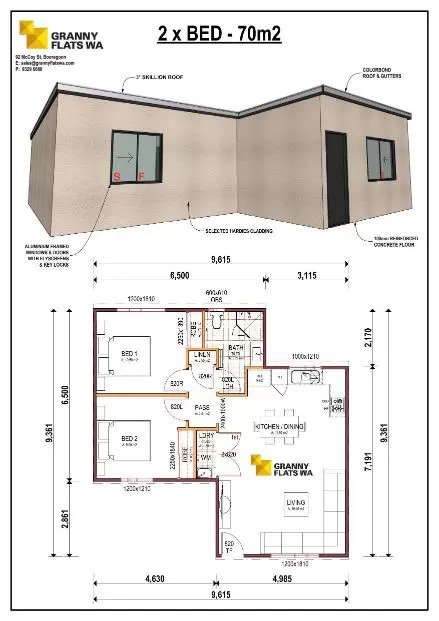 2 x BED – 70m2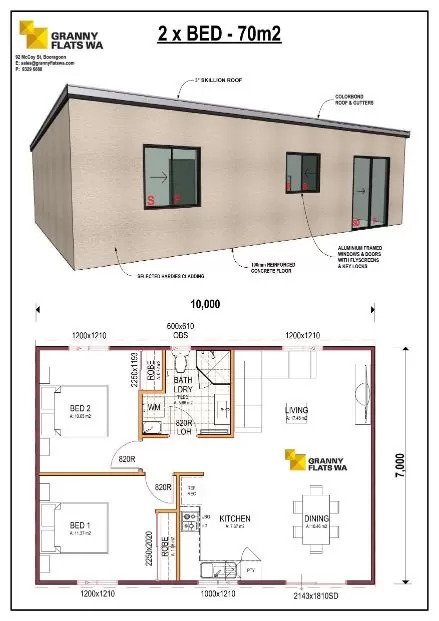 2 x BED – 70m2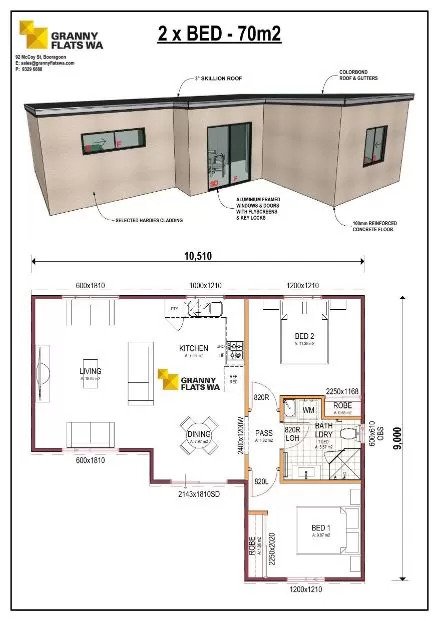 2 x BED – 70m2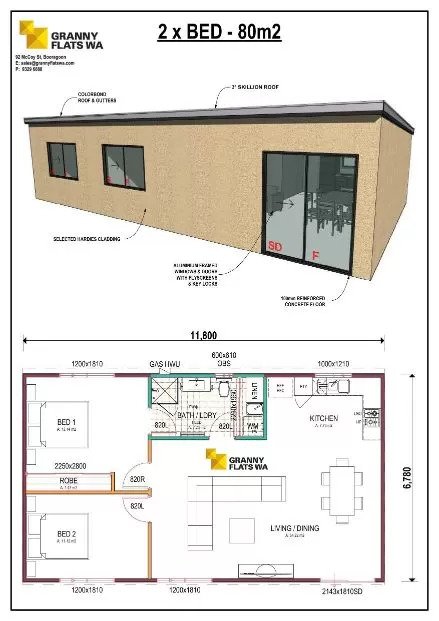 2 x BED – 80m2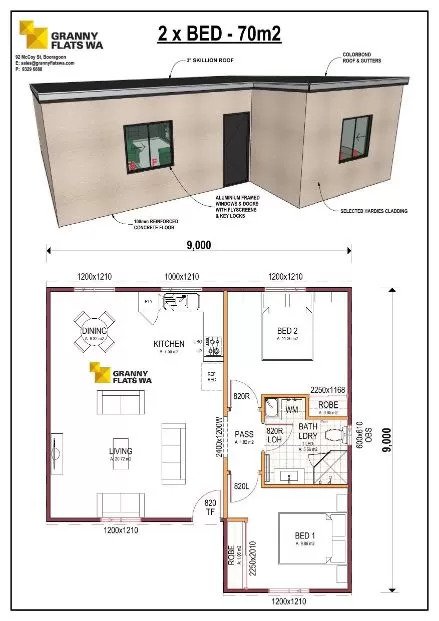 2 x BED – 70m2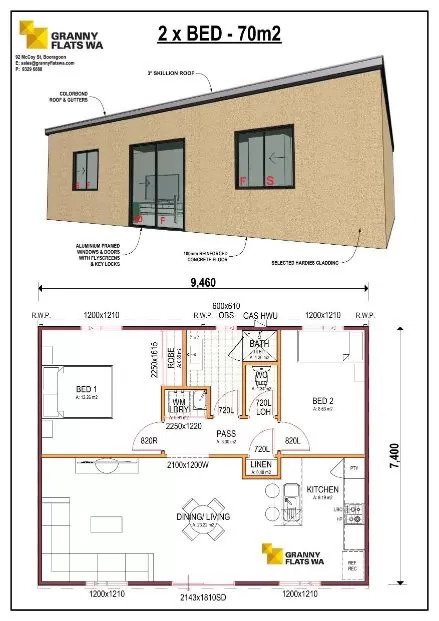 2 x BED – 70m2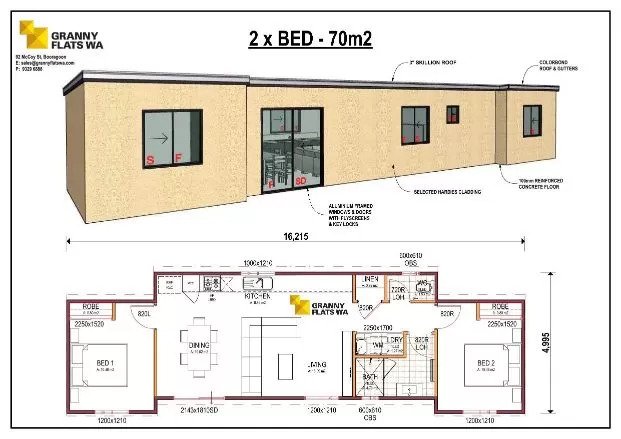 2 x BED – 70m2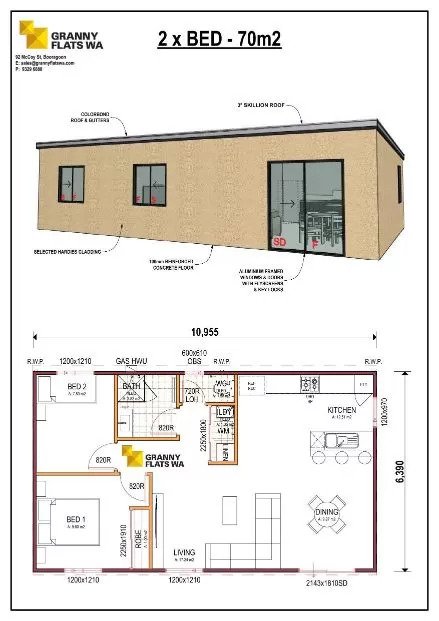 2 x BED – 70m2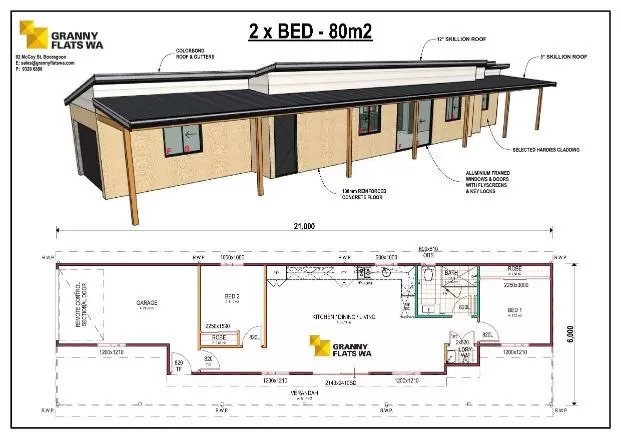 2 x BED – 80m2