Using your granny flat as an Airbnb is a great rental option for some extra cash. If your property abides by your local laws and regulations, you can use it to provide short-term accommodation. An Airbnb provides more flexibility than a traditional rental. You can set your availability, choose tenants, and manage bookings on your own terms.
What is an Airbnb?
An Airbnb refers to a property or room rented out on a short-term basis. Occupants are typically travellers searching for a cheap alternative to hotels. People can find Airbnbs by searching for listings in their desired location. Airbnbs range from single rooms to entire homes. Costs depend on property size, location, and amenities. Aside from providing a space to stay, Airbnb hosts must include living essentials like toiletries and bedding.
There are many different uses for a granny flat, but renting out a room or secondary dwelling as an Airbnb is a popular method to earn quick cash. If your granny flat is in a city or high-tourist area, you may want to consider turning it into an Airbnb. 
What are the requirements for using your granny flat as an Airbnb?
In Western Australia, each local council has their own by-laws regarding short-stay accommodation and holiday rentals. You can find out if your property is subject to any approvals or safety requirements by checking the WA Government's local laws register. Aside from legal requirements, you may also want to consider insurance. Some Airbnb sites offer their own insurance. This covers hosts for damages that may occur while their property is inhabited. However, you should do your own research and find the insurance plan that suits your needs.
After turning your granny flat into an Airbnb, you may be affected by capital gains tax. Capital gains tax, or CGT, is the tax paid on profits after selling assets, like property. If you sell your property later on, the granny flat will be subject to CGT. Since the flat is producing assessable income, you can usually claim tax deductions. However, it is important to double check that you qualify for these exemptions.
Rules surrounding cleanliness, tenant safety, and pricing differ depending on the listing site used. You as a host are responsible for providing clean and safe accommodation for guests, managing repairs, and maintaining the property. If you rent your granny flat out frequently, consider hiring a property manager who specialises in short-term rentals.
What are the advantages of using your granny flat as an Airbnb?
The advantages of a granny flat Airbnb include a boost to your income, greater flexibility, and claimable tax deductions. You can set your own rates and adjust them based on demand, so you can make more money during peak seasons.
An Airbnb gives you complete control over your property. You decide who to rent to, when to rent your property, and how much to charge. With a short-stay tenant, you don't have to commit to a long-term lease. This gives you more freedom than a traditional rental arrangement.
Renting out your granny flat for short stays also lets you meet a diverse range of tenants. Airbnb guests come from all over the world, so you'll become acquainted with many new people. The higher number of tenants and bookings helps provide financial stability. If a booking falls through or a tenant doesn't pay, you can find a replacement. This is not possible with a long-term tenant failing to make rent or breaking their lease.
You can even claim tax deductions for certain expenses related to running a granny flat Airbnb. These include repairs, cleaning, and internet costs. Claiming these tax deductions can help offset the cost of your Airbnb business.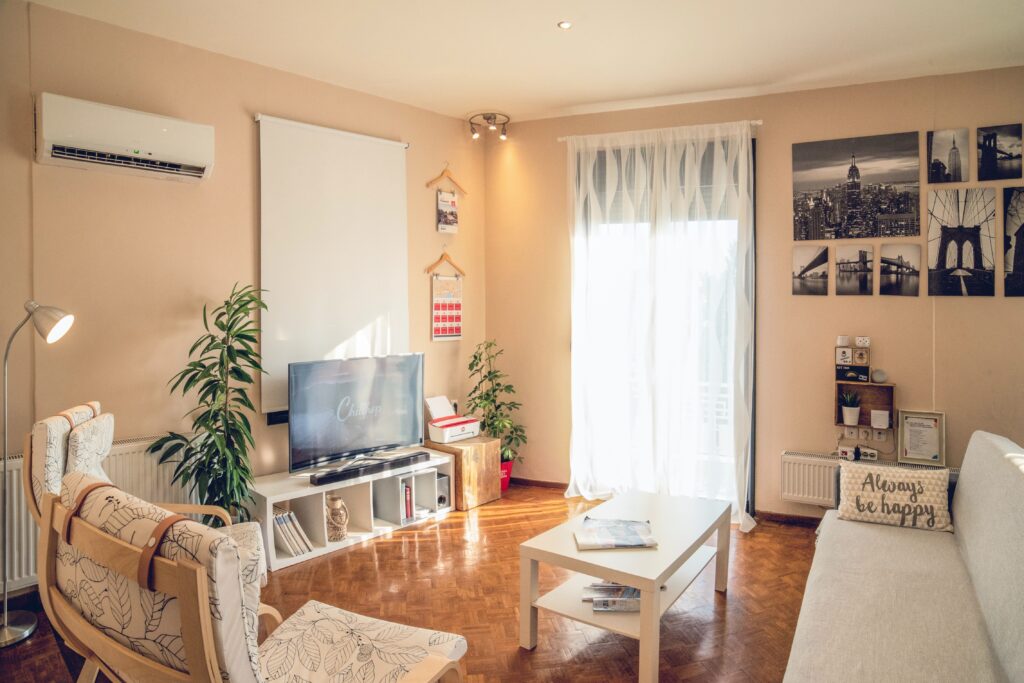 What are the disadvantages of using your granny flat as an Airbnb?
The main disadvantage to renting out your granny flat as an Airbnb is the lack of guaranteed income. Traffic varies seasonally, so you need to plan for the slower periods. This is especially important if running an Airbnb is your main source of income.
Even if your granny flat Airbnb is only a side-business, you need to put time into maintaining the property. Your granny flat should be clean, tidy, and safe to attract guests and maintain a high rating on listing sites. Whether you're paying professional cleaners, property managers or doing it yourself, a presentable property is imperative to securing business.
Depending on the layout and position of your granny flat, you may experience issues with privacy. Consider your property's amenities and whether you will mind sharing them with guests. These could include a driveway or parking space, a pool, rubbish bins or garden area. If your granny flat is close to your main residence, you may be able to see and hear tenants when you are home. Make sure to consider how much space you are willing to let your tenant use in your granny flat Airbnb.
Is it better to rent out your granny flat or use it as an Airbnb?
Whether it's better to rent out your granny flat or use it as an Airbnb depends on your personal income and business goals. If you are looking for long-term, stable income, you might be better off renting your granny flat to a single tenant with a long-term lease. This guarantees steady income from your property. However, you will have as much control over rent prices, and your home will need to be available for the duration of the lease.
Having a granny flat Airbnb provides more flexibility with tenants, rental prices, and availability. You can set your own booking dates and keep your granny flat available for personal use when you need it. Although the income is not as reliable as a traditional rental, you are able to align your rental rates with the current rental market. Ultimately, the best option for you depends on your individual circumstances.
Chat to our friendly team to find out how you can make the most of your granny flat.