As our metropolises get denser and rental prices continue to soar, granny flats are becoming an increasingly popular addition to a home. This is primarily due to their chameleon nature of fitting a variety of needs. Whether it be a segregated living space for a young adult or older parent, a music or painting studio, even a man cave – granny flats give you the chance to tap into a range of new possibilities.
It can be daunting and confusing to find the answers to your granny flat queries, but we're here to help. Let's have a look at some of the questions we regularly get asked. 
What is a granny flat?  
A granny flat is a self-contained living space that resides on the same block as a house. It can be attached to the home or sit external from it. For the most part, granny flats have a small kitchen and bathroom, allowing residents to be entirely self-reliant. 
Can I build a granny flat on my property? 
Building rules and regulations vary between states and councils. For Western Australia, the main requirements are that your property's size is greater than 450 sqm – although this can vary – and you're only permitted to build one granny flat per property. Other aspects, such as where service lines run and their ability to be connected to your granny flat, play a critical role in decisions around in building process. 
The planning approval process can be confusing and convoluted. For Granny Flats WA clients, however, this leg work is included in our approvals process. 
How big can a granny flat be?  
In residential areas of Western Australia, the maximum size you're allowed to build a granny flat is 70m2 – this is to align with the Residential Design Codes. However, in rural areas, you can build as large as 100m2.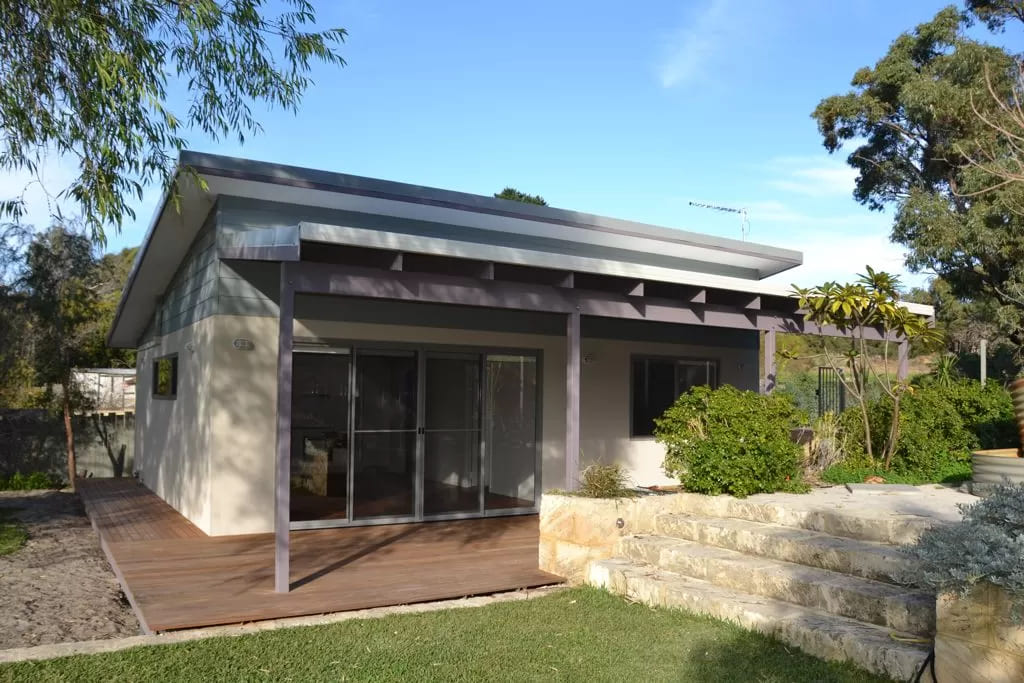 Is there an application process to rent my granny flat out? 
Legally you are allowed to rent out your granny flat. However, you will need to go through the standard tenancy agreements that are mandatory for all rental properties. These can be found in the Residential Tenancies Agreement.
How much does a granny flat cost to build? 
It varies depending on the size and components of the build. A one-bed granny flat with only the essential features can be as little as $99,000, a price we've worked hard to keep low – ensuring granny flats are accessible for as many people as possible. At the other end of the scale, a large, designer granny flat with a garage and veranda can cost up to $275,000. Click the following link to view our granny flat designs, floor plans and brochures.
Should I get an attached or external granny flat? 
The answer is subjective to your circumstances and intended use of the granny flat. The first question to ask yourself is whether you want to rent it out. Privacy is far greater in an external granny flat, for both you and the tenant. External granny flats are easier to rent out, which usually means you can charge higher rent.  
On the flip side, attached granny flats take up less space on your property. So if you want to keep a fair bit of garden for playing with your kids or hosting friends, attached might be the way to go. 
You don't have to be an expert in granny flats. 
There's a fair amount of specialised knowledge that's necessary for refining your granny flat vision. It's unrealistic to expect yourself to be able to absorb years of accumulated information in legislation and building permits in a matter of weeks. That's why we're here! At Granny Flats WA, we have over twenty years of experience in the industry – this is what we love. Our goal is to make the building process as streamlined and hassle-free as possible. Questions? Get in contact with our friendly team of specialists today.