Studio granny flats provide a cost-effective, minimalistic option. Their limited space offers fewer customisation options than larger granny flats, but they are cheaper and easier to build. They provide a small boost to property value and work well as rental properties. We at Granny Flats WA offer premade or custom designs for studio granny flats. 
How much does it cost to build a studio granny flat?
Studio granny flats are the most cost-effective choice among granny flats. Costs are influenced by the size, design and materials used. 
Have a chat with our team for an obligation-free quote for how much it will cost to bring your dream to life.
Studio granny flat requirements
Studio granny flats are more suitable for smaller properties with less space for a granny flat. A granny flat's allowable size is based on the size of your house's lot size. Studio granny flats are well-suited to smaller lot sizes since they are more compact. Studio granny flats have similar requirements to other granny flat types when it comes to planning, building and council approvals.
What are the benefits of a studio granny flat?
A studio granny flat is cheaper to build than a larger granny flat. It is more viable for houses that are built on smaller lots. Studio granny flats offer a small increase in property value and can effectively provide rental yield. They are a great rental option for people who are not at home much or don't mind a smaller space. They appeal to renters looking to save money. While a studio granny flat is not being utilised as a residence, it can make a great hobby room or office. 
Studio granny flat designs
Studio granny flats are designed to be more compact but contain everything necessary for a dwelling. They feature an open plan with the living room, bedroom and kitchen in one space and the bathroom and laundry separate. Depending on the layout, they may also have a small deck or outdoor area. Both pre-made and custom are options with us at Granny Flats WA.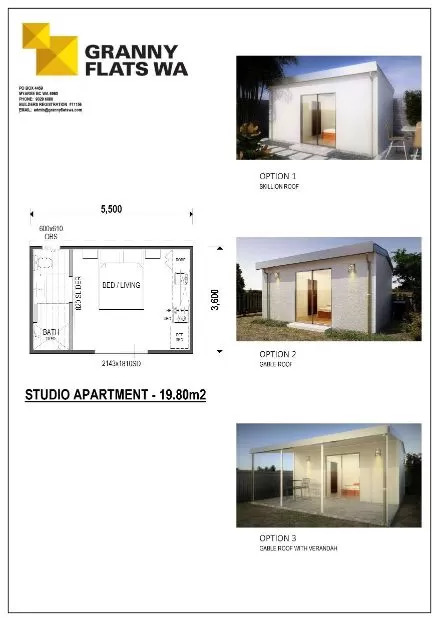 STUDIO APARTMENT – 19.80m2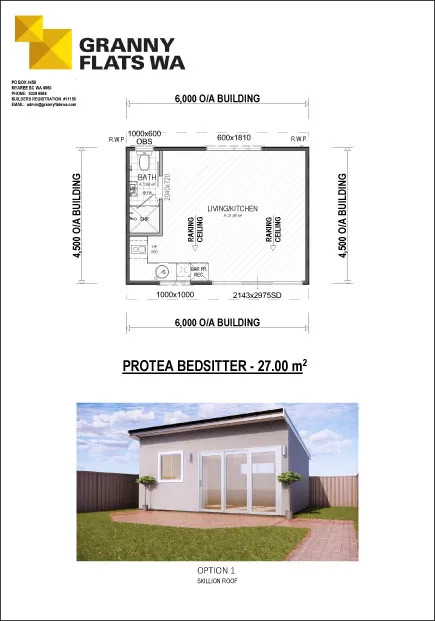 Protea Bedsitter – 27m2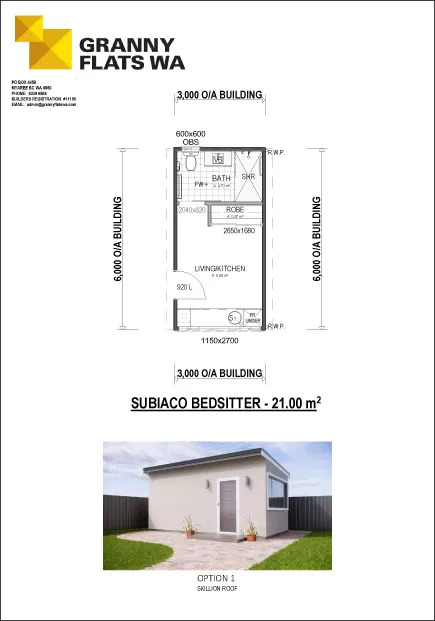 Subiaco Bedsitter – 21m2
Book an appointment for a free consultation
Address: 92 McCoy Street Booragoon Open: Mon – Friday: 9am to 4pm Saturday 10am to 12.30pm
We are happy to arrange a time to meet at the showroom after open hours, anytime suitable to your availability.