House extension ideas inspire you to improve your home. They highlight how new features and extra space maximise utility and property value. Extensions fit well wherever a house has space available, with rear extensions being the most common. The most popular house extension ideas are for bedrooms, kitchens, living rooms and home offices. There's a perfect house extension out there to suit any lifestyle.
What is a house extension?
A house extension is an additional structure built on a property. It may expand an existing room or add an entirely new structure to a home. The fresh features and increased living space revitalise a home and raise its property value. However, house extensions must be planned out carefully. Any features or rooms you want to add require approval from your local council.
Where on your property can you get house extensions?
House extensions comfortably fit anywhere around the property where space is available. Rear house extensions are the most common, as backyards typically have more free space than other areas. Additional structures such as swimming pools or granny flats are built here as a result. Side extensions and wrap-around extensions are alternative options for some properties. These are more suited to expanding existing rooms or adding small new rooms. Houses even have the option to add second storey extensions to their structure. However, these are more complicated to design and don't suit every property.
Bedroom extension ideas
The bedroom is the most intimate area in the home. Bedroom extensions personalise your private space with features that appeal to you. Ensuites are a popular addition for convenience and a greater sense of luxury. Attaching a balcony is always classy too, providing a relaxing area to enjoy your morning coffee. Balconies provide additional seating in the bedroom area while remaining a cost-effective option.
An entirely new bedroom is another fine choice, particularly for investment properties. A higher number of bedrooms increases potential occupants for the home. This provides greater return on investment in the long run for the savvy landlord.
Bathroom extension ideas
Bathroom extensions take your personal cleaning and grooming routine up a notch. Increasing the space of a bathroom makes it more grand and so do new features. An elegant bath is a great addition for relaxation and rejuvenation. Additional cabinets give you space for all your favourite self-care products. The most important decision is whether to have an ensuite or a separate bathroom. However, you must be aware of the complexities that come with bathroom extensions. Plumbing is an important factor, which means planning a bathroom extension could be more difficult.
Kitchen Extension Ideas
A kitchen extension provides helpful upgrades to a frequently-used area in the house. By expanding the space in the kitchen, you can cook with greater comfort. Additional storage gives easy access to utensils and appliances when you're whipping up a great meal. Building marble countertops and kitchen islands divides the space and brings a different aesthetic style into the mix. Kitchen extensions are also the perfect way to incorporate a dining area into the kitchen. Alternatively, an extension could link an alfresco dining area directly to the kitchen. It's the perfect way to embrace an open plan setup.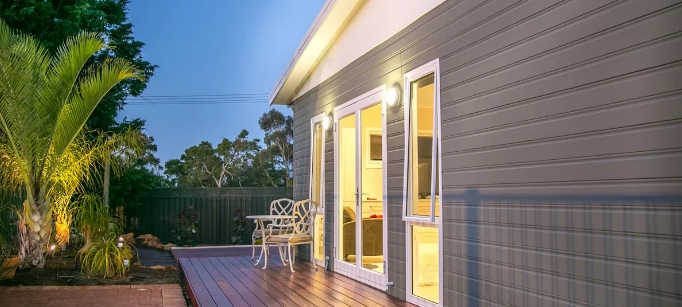 Living Room Extension Ideas
Living room extensions bring an extra spark to the most social area of the home. Living rooms are where the household spends time together and guests are entertained. Extensions give you an opportunity to boost both the aesthetics and utility of this space. A living room extension lets you utilise an open plan layout to make the space feel larger. It allows you to seamlessly integrate the interior and exterior areas of the home. Incorporating a skylight for natural light enhances this effect a step further.
If you're looking for more division between rooms, other options are available. Incorporating a bar between the kitchen and living room provides segmented areas and additional seating. The bar is a great place to keep drinks and you can use it for a cocktail night with friends. Adding elements with built-in storage helps you divide rooms while also having more space to keep your belongings. Living room extensions bring a myriad of upgrade opportunities.
Home office extension ideas
Home office extensions provide a focused environment for conducting work. Home offices are where you handle paperwork like taxes or work on personal projects and hobbies. They are fast becoming essential for all kinds of professions. Many workplaces nowadays have flexible or remote working options. A dedicated work place enables better productivity and easier maintenance of a work routine. Home office extensions can include a variety of features such as soundproofing or specialised desks for a fully-optimised work environment. Office pods are a popular solution as they can be built outdoors for better isolation and use of outdoor space on the property.
Home gym extension ideas
A home gym extension provides a convenient space for fitness and exercise. It takes the commute out of staying in shape and lets you forego expensive gym fees. Home gym extensions are customisable to your preferred workout plans. One area might be for weights and machines while another area might have a stationary bike or treadmill for cardio. Including mirrors is a great way to ensure your form is always tip top. You may also want windows to let in natural light for those morning yoga routines.
Outdoor extension ideas
House extensions don't have to be attached directly to houses. Outdoor extensions often incorporate new, separate structures into a property. They tend to be more sensitive to available space than other extensions. Rear house extensions work best for outdoor structures since backyards usually have spare space. Granny flats, swimming pools and decks are popular options for sprucing up a backyard.
Any house extension idea will benefit from experienced builders that provide quality craftsmanship. Granny Flats WA has spent 20 years building high-quality house extensions for our customers. If you're looking to build new rooms and features on your property, give us a call or get an obligation-free quote.