There are a range of rear house extension ideas that work splendidly in Australia. Rear house extensions use the available space behind a property to add features and increase living space. Decks, patios and roof extensions enhance the backyard space to make it more suitable for entertaining guests and outdoor dining. Swimming pools, gardens and conservatories provide specialised spaces for pursuing your hobbies and interests at home. Granny flats are the most elaborate rear house extension, acting as separate dwellings with versatile uses.
What is a rear house extension?
A rear house extension is exactly what it sounds like – an extension built behind your house. Rear house extensions are popular because houses typically have backyard space where structures can be built. Building an extension helps personalise a property and provide additional utility to a homeowner. Rear house extensions expand existing rooms with additional features or add entirely new rooms and structures to a property. The added utility and living space contributes to an increase in property value. However, building an extension isn't always that simple. Beyond a certain scale, extensions are subject to local council rules and must be approved beforehand.
Deck extensions
Decks work fantastically as rear house extensions in Australia that spruce up your backyard. Deck extensions provide an area for entertaining guests, alfresco dining or barbecuing. Their strong aesthetic appeal contributes to a classic, natural look in the backyard. Many types of wood are suitable for deck planks, with colours and finishes to match your aesthetic preferences and your home's existing style. In addition to flexible aesthetics, decks have flexible designs. They can easily adapt to being built on uneven terrain, allowing homeowners to incorporate levels into their backyard. Elevated decks are a popular option to make the space feel bigger. But you can also fill the space easily, with deck features like steps or built-in benches for added convenience. All of these qualities make decks one of the best rear house extensions for increasing a home's resale value.
Patio extensions
Patios are rear home extensions that breathe life into Australia backyards. Patio extensions are perfect areas for having barbecues or summer lunches with friends. They are sturdy, paved sections behind your house that last a long time and require minimal maintenance. In addition to requiring little care, patios are very affordable. They are typically built from brick stone or cement, which won't set you back much. These materials are used for different styles of patio. to accommodate the vibe you're looking for. Popular patios types include, dome, flat roof and pergolas.
Roof extensions
Roof extensions are an affordable, minimalistic rear house extension for Australian homes. Roof extensions work well on their own, adding additional shade and parking cover to areas in the backyard. This is an absolute blessing during the scorching, Australian summer. But where they really shine is in their ability to enhance other rear house extensions. Roofs are effective at creating shelter for decks, patios and swimming pools, so you can enjoy them in any weather. There are plenty of choices for building materials, with different colours and styles to create the look you're imagining. This also makes it a piece of cake to blend them into your home's existing style.
Garden extensions
Dedicated gardening areas make for useful and relaxing rear house extensions. Many backyards are full of grass or greenery, but a dedicated garden extension helps you truly embrace gardening. A garden extension includes features that make gardening more convenient like wooden flower beds, trellises for vertical growing and water features like garden ponds or fountains. There's no easier way to grow plants for decoration and vegetables for cooking. Garden extensions blend seamlessly into a backyard area while retaining a natural feel. They provide an excellent place on the property for decompression, meditation or peaceful relaxation.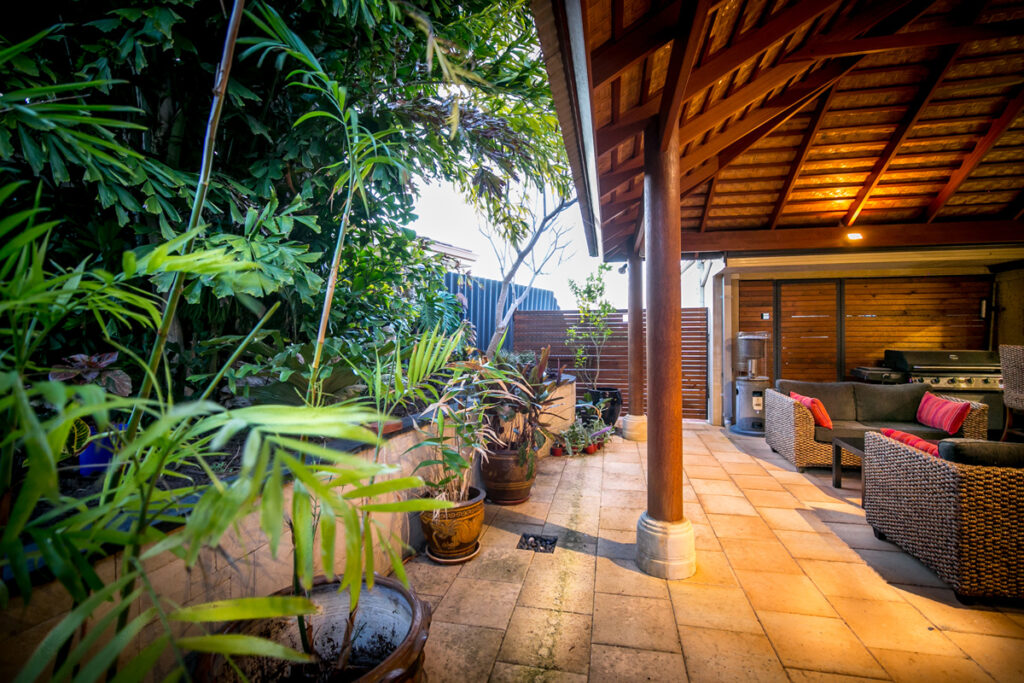 Conservatory extensions
Conservatories are a sophisticated, classic choice for a rear house extension. Conservatory extensions add transparent, glass rooms to a house, which are capable of serving a range of functions. Their transparent roof lets in sunlight, creating a dining area that captures the appeal of alfresco dining while still providing shelter from wind or rain. Conservatories function well as greenhouses or sunrooms for the same reason, providing a perfect environment for plants to thrive. Australia's sunny climate is well-suited to conservatories, which are a sorely underutilised extension idea.
Pool extensions
Swimming pools are excellent rear house extensions for the Australian summer. Swimming pool extensions provide the perfect option for cooling off on a hot day. They're an excellent choice for swimming enthusiasts or families wanting a source of entertainment for their kids. Pools work perfectly as entertainment areas where guests lounge poolside as you cook on the grill. They are available in a range of different sizes and styles to suit your style preferences, available space and budget. Swimming pools provide a strong boost to a property's value, with factors like climate and proximity to the beach affecting the exact amount.
Pool house extensions
Pool house extensions provide the ideal complement to swimming pools. They give additional utility however you need them to. Pool houses work as changing rooms or showers for guests using your pool. They're also useful places to store pool equipment like floating or outdoor furniture like beach chairs.
Granny flat extensions
Granny flats are the rear house extensions which require the most investment but offer the greatest return. Granny flat extensions provide a flexible array of benefits for homeowners. They function as dwellings for relatives, rentals for tenants or repurposed offices and hobby rooms. Granny flat extensions have intricate designs and stringent approval criteria compared to other rear house extensions. Premade granny flat designs are available or a professional can be enlisted for a custom design. If you don't necessarily want to build an entire granny flat, consider a backyard office pod. They're like smaller granny flats with specific, targeted uses. They take up less space and are often easier to build as a result.
These are just some great ideas that make the most out of your rear house area. There are so many different options to enjoy and explore with your home. To ensure you're making the best decisions, working with a professional is your best bet. Granny Flats WA leverages our 20 years of experience to minimise hassle and bring your vision to life. For quality house extensions that live up to your imagination, contact us today.