Making the most of your granny flat's interior requires planning different rooms and using the space effectively. The granny flat's layout determines how the space feels overall. The kitchen, bathrooms, and flooring have the greatest impact on the feel of your granny flat interior.
What's in a granny flat's interior?
A typical granny flat will comprise a bedroom, kitchen, bathroom, and living space. The limited space differentiates planning the interior of a granny flat compared to a house. Because granny flats are smaller, a greater focus is put on using space efficiently. 
It's common for granny flat interiors to feature open plans or rooms that fit multiple purposes, such as a combined kitchen, dining, and living space.
Granny flat layouts
The layout of a granny flat interior refers to how the space and rooms are arranged. Granny flats have greater flexibility in design.
In addition to the number of rooms and where they are in relation to each other, the layout determines how divided the rooms are. A design with less division between rooms is called an open plan, and one with clearly divided rooms is called a closed plan.
Open floor plan
Open floor plans combine rooms, which provides an increased feeling of space. Utilising an open-plan layout is a great way to let natural light in, as multiple windows or glass doors can light up a single room.
The space of open floor plans provides flexibility for furniture arrangement and creates a social hub within the home.
Some drawbacks are that cooling and heating may cost more in a wide open space. Additionally, controlling noise is harder without walls separating rooms.
Closed floor plan
Closed floor plans are a more traditional choice for granny flat layouts, offering privacy through separated rooms. A closed-plan design is suitable when you want to vary the decoration between different rooms in your house. The main drawback of closed floor plans is that they can cramp a small space.
Check out our floor plans page for potential layouts for your granny flat design.
Granny flat kitchens
Begin planning your granny flat kitchen by considering large appliances and fixtures. Sinks, counters and ovens are essential parts of the kitchen that take up the most space. Think about where they would best fit according to your layout preferences. Then plan out where you would put power points for easy appliance access. To minimise clutter, maximise the space in your kitchen. Having your kitchen double up as a dining area saves you from needing a separate dining room. Buying versatile appliances in place of specific ones frees up more storage space. Having enough drawers and cupboards ensures your utensils and appliances have adequate storage. For extra granny flat kitchens ideas, check out our granny flat display kitchen renovations.
Granny flat bathrooms
Granny flat bathrooms can be set up as either separate rooms or ensuites attached to bedrooms. Their layouts depend on whether they contain bathtubs and toilets or just showers. Granny flat bathrooms are sometimes designed with features that accommodate different mobility requirements. They use tiling, which gives you many options for decoration. An excellent way to conserve space is to have a bathroom that doubles as a laundry room.
Check out our bathroom renovation gallery for potential ideas about granny flat bathroom design.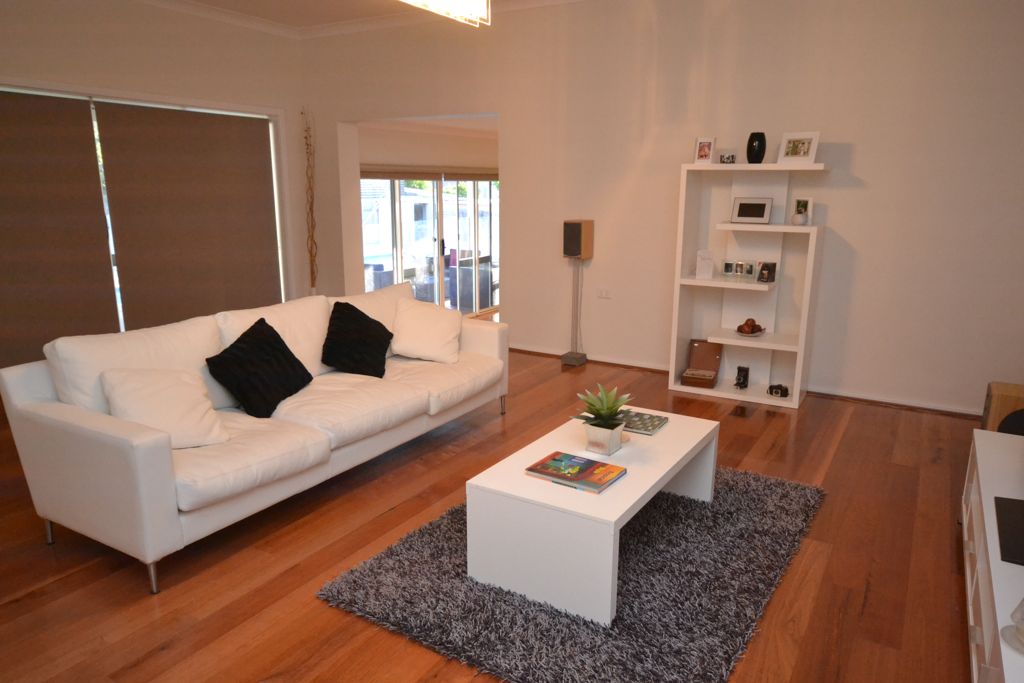 Granny flat flooring
Granny flat interiors have a range of available flooring options. Types of flooring are often mixed throughout the home, such as carpet in the bedroom and hardwood in the living room. When thinking about granny flat flooring, consider potential occupants. For example, wheelchair users may have difficulty moving around on carpeted floors. Carpet, hardwood, tile, vinyl and laminate are granny flats' most commonly-used flooring options.
Carpet
Carpeted flooring is warm and comfortable to walk on. It's also very effective at absorbing noise and shock. Carpets are available in various styles and materials, giving you many options for decoration. They're also quick and easy to install in your granny flat. However, carpets require more maintenance than other floorings. This is because dirt, debris and odours get trapped in carpet fibres over time, making it necessary to clean them regularly. They're also less durable and susceptible to getting worn out quicker than other floorings.
Hardwood
Many consider hardwood floors aesthetic, and their popularity raises property value. They are moderately priced, easy to clean and have different styles available. While somewhat durable, they are easier to damage than some flooring options. In addition, hardwood floors are on the more expensive end of flooring options and require regular maintenance.
Tile
Tiles are commonly used in bathrooms and kitchens, but can be utilised anywhere in a granny flat. They are long-lasting, durable, easy to clean and have a variety of designs to choose from.
Using large tiles is an excellent way to make rooms feel more spacious. Additionally, installing tiles takes longer than other floorings and requires additional work, like grouting.
Vinyl
Vinyl is available in a variety of styles to suit your preferences. It is a popular alternative to tiles for the kitchen and bathroom. Vinyl is cheap, easy to install and easy to clean. However, stepping on vinyl is often noisier than other types of flooring. In addition, it has a shorter lifespan than other floorings, with damaged vinyl needing to be replaced rather than repaired.
Laminate
Laminate can emulate the appearance of many flooring types, giving you many decorative choices. It is quite durable and very resistant to scratches and scrapes. Laminate is also very affordable and easy to install in your granny flat. One drawback is its vulnerability to water damage. If it does get damaged by water, it will need to be replaced rather than repaired.
Granny flat bedrooms
The number of bedrooms in a granny flat varies depending on its size. With more bedrooms, a granny flat can house more residents or have more rooms repurposed. For example, bedrooms can be repurposed as studies or hobby rooms. Granny flats can range from studio granny flats, which feature one open living space, to three or four-bedroom granny flats. Too many bedrooms in a smaller granny flat might feel cramped. Granny flat display homes are a great way to determine how spacious the rooms will feel.
Granny flat living rooms
A living room is the main space for entertaining guests or spending time together in a granny flat. The living room arrangement depends on how you plan to use it. Combining it with the dining room is a good idea if you plan to host guests for coffee or drinks; couches and a television work well for someone who wants to use it for relaxation. Size plays a factor in your living room options, with studio granny flats using living rooms as bedrooms. An open plan layout generally gives you more flexibility for furniture arrangement.
Granny flat garages
Including a garage in your granny flat interior provides you with a parking spot and additional storage. A garage is considered a non-habitable space, so it doesn't count towards your granny flat's size limitations. Garages have separate size limits, which vary by the council. Adding a garage to your granny flat is suitable for raising property value.
Granny Flats WA has over 20 years of experience designing and building granny flats. Clients can choose from our extensive floor plan catalogue or create a custom design. If you have any questions about whether a granny flat would be the right choice, contact our friendly team.