There are multiple ways of extending the living space on your property, with three of the most prominent being a granny flat, kit home or modular home. Because they each provide increases in living space, property value and potential revenue streams – you'd be forgiven for thinking they're the same. In fact, there are significant differences between granny flats, kit and modular homes, and they're worth knowing so you can make an educated decision as to which is best for you.
You might already know what a granny flat is, but read our article that answers common granny flat queries if you're unsure. It's important to note that kit and modular homes can often still be referred to as granny flats, which helps perpetuate the confusion. For this article, when we mention granny flats, we're talking about the custom, built onsite, high-quality material granny flats that GFWA produces.
Let's explore what kit and modular homes are and how they compare with a granny flat.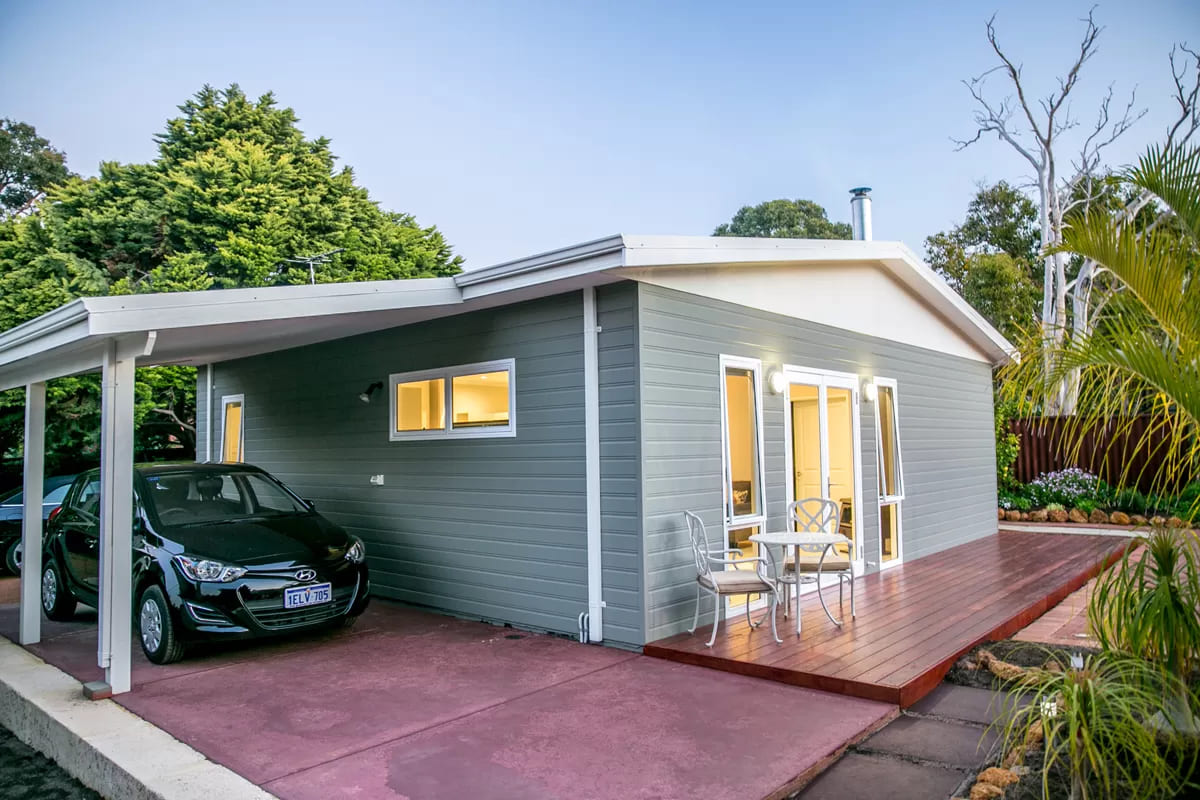 What is a kit home?
A kit home is an ancillary dwelling prefabricated in a factory. This means that the major pieces of your building are created and transported to the site where they're put together. The word 'kit' is used to describe their simplified process of putting the pieces together like a giant jigsaw. Kits are often used to create portable granny flats, which can be relocated. The main reason kit homes are so popular is because they're easily customisable. While they may have a reputation for looking cheap and utilising unimaginative designs, the world of prefabricated buildings has developed since then. Kit homes now have a level of style and quality much closer to traditionally built homes, often with a lower price tag. They also end up being more environmentally friendly due to less onsite building and waste production compared to traditional builds.
How much does it cost to build a kit home?
A kit home in WA can cost anywhere between $75,000 to $200,000 or more. The lower end of the scale is likely to exclude the building fees, which will add a significant expense. Factors influencing the price of a kit home include building permits, delivery, and interiors. Before you put a house down on your property, you need permission to build it. There are usually council fees involved when trying to obtain the appropriate building permits for your home. 
Even though kit homes are made off-site, they still need to be transported to your land. Naturally, this involves machinery and labourers to travel, load and unload the various parts of your home. If your property is difficult to access (for example, if you live down a narrow lane that's hard for trucks to drive through) then this will add to your overall expenses. 
Once the home is built, there's the matter of interiors. Kit homes need kitchens and bathrooms, lighting, and decor. Some fixtures might be included in the building price, but it's important to factor the inside of your home into the budget.
What is a modular home?
A modular home is one step further into the realm of prefabrication. It is created entirely in a factory, and the whole building, completely built, is transported to the site. Modular homes mean lower onsite building bills as the house gets placed onto the property, gets services attached and receives the finishing touches. One of the important aspects to remember is that you're still paying building costs – they are just being spent on work in the factory. You'll also be paying increased transport costs.
The main appeal of modular homes is how quickly they are built. Most are constructed using pre-existing designs and materials that are already in the factory. Once assembled, it's just a matter of transporting the home onto your property. Some modular homes only take five or six months from design to moving in.
How much does it cost to build a modular home?
The cost of modular homes varies significantly, usually calculated by factors such as size, inclusions and site location. Lower end costs are around $100,000 and can go all the way up to the price of a brand new home. If you aim to customise your modular home to specific designs, it's going to cost a bit more. For instance, if you want to have a portable granny flat, you might need to consider upping the budget.
Furthermore, size plays a part. Regular homes with multiple bedrooms and two to three bathrooms are going to be more expensive than a modular granny flat. But, if you're sticking to a modest one or two bedrooms, you can keep the price down. It's also handy to consider hidden costs that might not factor into the building process, like permits, transport costs, and interior decorating.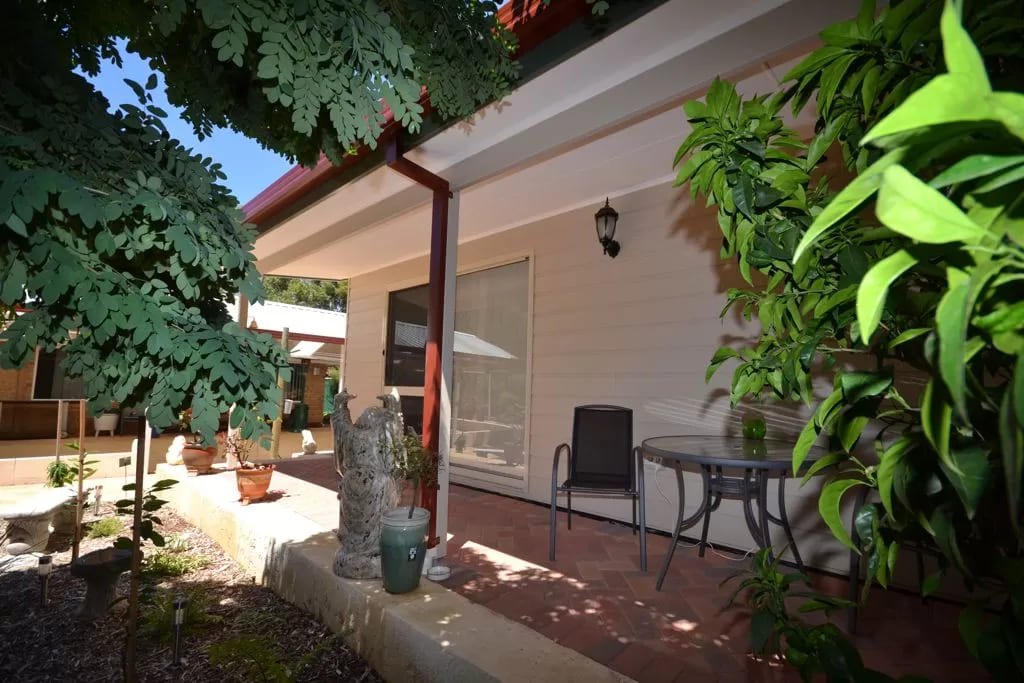 Weighing up the pros and cons.
A key advantage of kit and modular homes is that a lot of the work is done off-site, minimising the building time at the client's property. However, this can also be a drawback, as you aren't able to be part of the building process and collaborate with your builder throughout it. This is an essential aspect for custom, premium granny flats like the ones GFWA builds. Our relationship with our clients is an integral part of the process, and we aim to ensure every aspect of a client's granny flat is tapered to their individual needs and wants.
The materials used in your build are essential for longevity. You don't want to financially invest in constructing a building that isn't going to last long enough to yield a solid return on your investment. Because GFWA can customise its builds for you, you're able to choose what materials are the best fit for you.
Should you choose a home extension over a granny flat?
Both an extension on your home and a granny flat give you more space but differ in what they add to your property. Even if it is attached to an existing residence, a granny flat is self-contained, meaning that it has a bedroom, living space, and bathroom. In contrast, an extension is in the name: an extension of your home – this could be an additional room or an entertaining outside area.
So if you're considering a granny flat, kit or modular home, should you also be thinking about an extension? An extension may prove to be the cheaper option, but if you want to recoup your expenses through rent, you'll need to choose a self-contained space. Additionally, if you want a space for your parent or young adult to make their own, you'll need a granny flat, kit or modular home.

Everyone has a different reason and vision for extending the living space on their property. Have a chat with one of the GFWA team or visit our showroom (where we have three full-size granny flats constructed) to see if our custom, premium creations are the right fit for you. You can also get more information from our articles.